Are you going through a separation or divorce?  Are you considering selling the house?  Or, perhaps you're thinking of keeping it.  Whichever direction you have in mind, you'll want to make a well-informed decision.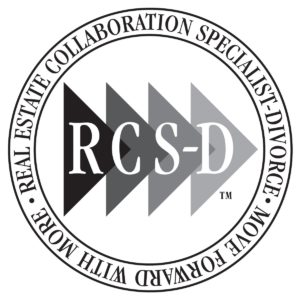 Before making the decision to sell or keep the house, you want to be sure that decision is for all the right reasons.  You'll want to work with a real estate agent who specializes in divorce situations – an RCS-DTM designee.
The family home is usually the most significant asset in divorce, often with significant debt. However, appraisal minus mortgage does NOT equal actual equity. This incomplete equation leaves your house over-valued and that works against you in divorce.
Whether you want to keep the house or sell it,  I provide free information and assistance to help gather the house documents you need so you know the ACTUAL house equity.  You'll learn about possible liens, insurance issues, and other unknown and possibly hidden items.  Once you have the information, you'll be able to make a well-informed decision about the house, and avoid potential problems later.
Don't settle for a bad property settlement. In addition to the inaccurate and unfair division of your property, you may be risking damaged credit, default, foreclosure or even bankruptcy.  I can help you get informed!  Using my Real Property Information Tool, team of real estate and financial professionals, and other resources, you'll get the information you need to make an informed decision about one of the biggest assets….the house.
A RCS-D REALTOR®–a Real Estate Collaborative Specialist-Divorce, I am professionally trained to neutralize divorce real estate as a business transaction in the best interest of the house – and each divorcing spouse.
Contact me @ 614-208-9794 or email jodydeeds7@gmail.com to discuss how you can protect one of your most valuable financial assets during the stressful time of divorce. Whether your divorce is completed, just beginning or somewhere in between, I can help you determine your best options now for a stronger financial future.
---
The RCS-D™ professional program was written and taught by Kelly Lise Murray, J.D. & Wendy Waselle. Professor Murray earned her J.D. cum laude from Harvard Law School & is an Instructor in Law at Vanderbilt Law School. Co-Instructor Wendy Waselle has a Masters Degree in Education & developed the RCS-D™ marketing system.